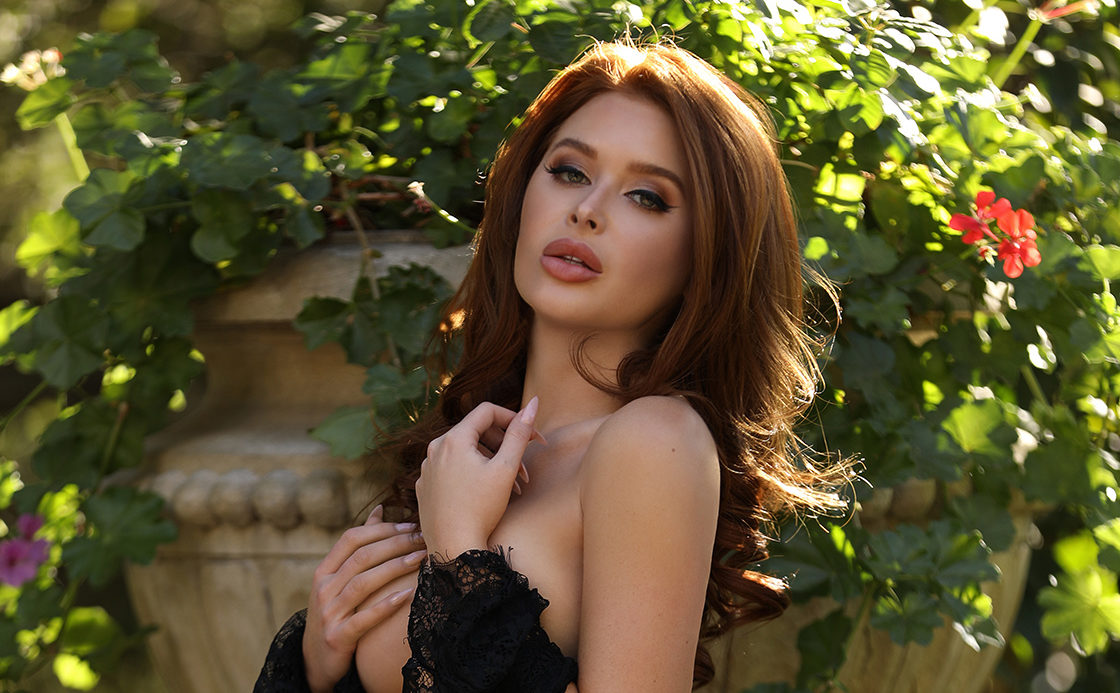 With Playmate Renee Olstead / @XoRenee
Photography by Arthur St. John / @ArthurStJohn
HMUA:Taylor Jazz / @Taylor_Jazz 
Location Houdini Estate (Jose Nazar)
---
Tell us about your background. Where were you born? Where did you grow up? Where do you live now? I was born in Houston, however, I spent most of my years as a teenager in Los Angeles. I've been a California girl ever since. 
Tell us about your first acting job.I can't even remember since I started so young. I started my career in Texas, but I started making trips out to LA for bigger jobs around the time I turned 7.
If you had the choice to only do one (Acting or Music) which would you pick and why? I'll always have a strong connection to both, even if I spend most of my time doing schoolwork and making content for my fan page these days. They'll always have a place in my heart.
What's your favorite color? Red, without question. It's my signature color.
What type of music do you enjoy most? Favorite artist? I love so many different genres, it's hard to pick! My favorite artist of all time is Billie Holiday though.
Favorite movie of all time? Favorite actor? I think I'm going to have to go with Scorsese's "Casino". Sharon Stone was immaculate as Ginger. That said, I'm not sure I have a favorite actor, just favorite performances! 
Do you prefer the beach or the pool? Well, it depends. I'd prefer the beach overall, but if I want to sunbathe nude, I guess I'd have to say the pool. Unfortunately, there aren't many topless/nude beaches in America.
Read the book or watch the movie? Read the book, hands down!
If you could be an animal, what would you be and why? Either a lioness or one of my own pets. They're quite spoiled and I always let them sleep in the bed.
What is your favorite body part on you? on him? On me? Well, I think being a redhead makes me unique. So maybe my hair? On him, tattoos. Wherever they might be!
What attracts you the most in a man? Honesty, intelligence, and strong social justice perspectives.
Biggest turn on? Strength/empathy.
Biggest turn off? Jealousy/insecurity.
Describe your perfect date. Doing something new or novel together, with plenty of flirting and maybe a nice bottle of wine?
Describe yourself using 3 adjectives. Curious, dichotomous, femlin. (I think "femlin" may actually be a noun, but I stand by my choice.)
Any pet peeves? Misogyny.
Where is your favorite vacation destination and why? I love traveling! Some of my favorite places are Bali, Oslo, New Orleans, the Philippines, and anywhere in Italy! 
Congrats on your Playboy Sweden Playmate Cover! What does this mean to you? It's a dream come true! I've been a Playboy fan for as long as I can remember. (I even have an extensive collection of vintage Playboy memorabilia) Plus, the majority of my heritage is Scandinavian! It's such an honor to be featured on the cover of Playboy Sweden, hopefully, I've made a few of my ancestors proud 🙂
What do you think of when it comes to Playboy and the iconic bunny? I think of so many good things! I think of the Playboy clubs of the 1960s, the Playboy Jazz Festival, which I was lucky enough to perform at (I was also the musical guest at the Playboy New Years Eve party one year), the Playboy legacy, Hefner, and of course, the bunnies! 
Tell us about your photo shoot. It was incredible. We shot at the Harry Houdini estate which was stunning and full of history. I took so many pictures! The photographer, Arthur St. John, is insanely talented and made me feel so comfortable on set. Plus, our makeup artist, Taylor Jazz, did an amazing job getting me ready! I truly felt myself become a Playmate on that shoot! 
Where do you see yourself 10 years from now? Well, I'm about halfway through my masters degree at the moment, but I'm hoping to have "Ph.D." after my name sometime in the next decade. 
If you could change any one thing in the world, what would it be and why? Just one? Ok. I think the world would be a lot better off if we could all recognize one another's humanity. It's a tall order, but I imagine that would resolve a lot of major problems.